UPS Software
ViewPower Software for Windows® v2.12 (149,6 MiB, 4.024 hits)
Windows® 2000/2003/XP/Vista/2008 and Windows® 7/8 /Windows SBS 2011 and Windows server 2012


ViewPower Software for Mac OS x86-64bit v2.12 (40,9 MiB, 749 hits)
Mac OS 10.6, 10.7, 10.8, 10.9


ViewPower Software for Mac OS i386 v2.12 (40,9 MiB, 612 hits)
Mac OS 10.5



ViewPower software supporting other operating systems is available from the following website: http://www.power-software-download.com/viewpower.html
FSP Guardian Software
FSP Guardian v1.00 (44,5 MiB, 680 hits)
Users can use FSP Guardian software to monitor power input, power output, efficiency,
and other internal records in real time and get the historical data within 30 days.


Dokumente / Anleitungen
ViewPower User Manual v2.12 (3,3 MiB, 2.500 hits)
- Allows control and monitoring of multiple UPSs via LAN and INTERNET
- Realtime dynamic graphs of UPS data (voltage, frequency, load level, battery capacity)
- Safely OS shutdown and protection from data loss during power failure
- Warning notifications via audible alarm, popup screen, roadcast, mobile messenger, and email
- Scheduled UPS on/off, battery test, programmable outlet control, and audible alarm control
- Password security protection and remote access management


FSP AGB (93,1 KiB, 708 hits)
FSP - Die allgemeinen Geschäftsbedingungen


USV Einsteiger Handbuch (2,3 MiB, 981 hits)
Ein kleiner Leitfaden in die Welt der USV-Anlagen. Einfach und klar erklärt, damit auch Einsteiger
am Ende genau Wissen welches USV für sie das Geeignetste ist.


Champ Tower 1-3K Manual (1,3 MiB, 572 hits)



EP Series 450 650 850 Manual (1.017,6 KiB, 834 hits)



EP Series 1000 Manual (1,1 MiB, 1.213 hits)



EP Series 1500 2000 Manual (1,4 MiB, 808 hits)



FP Series 400 600 800 Manual (1.017,1 KiB, 658 hits)



FP Series 1000 1500 2000 Manual (3,7 MiB, 733 hits)



Nano Series 400 600 800 Manual (933,0 KiB, 585 hits)



Press and Product Pictures / Data Sheets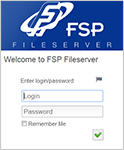 If you need product pictures in high resolution quality and data sheets from our products, please click on the following link and login to our file server.
File Server Link: http://fileserver.fsp-europe.com
User: fspuser
Password: fsp-files